Complete Website Solutions for Your Firm
Template

Options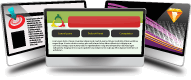 First impressions are lasting! Choose from numerous modern and exciting templates, color combinations, themes, backgrounds, and styles.
Find out more about various Template options for cpa site solutions
Try

It Free

Enjoy a 30-day, no obligation, evaluation period that will allow you to thoroughly try out your new website.
(No Credit Card Required)
sign up for a test drive
What is Site Builder?
CCH Site Builder is the premier web solution for tax professionals.
We create effective online connections with clients and prospects that translate into profitable and long-standing offline partnerships.
No matter what your objective, goal or vision entails, whether your firm wishes to create a new website for promoting your tax and accounting services or enhance an existing one to provide a more fulfilling visitor experience, CCH Site Builder will help you achieve it.
With Site Builder You Can
Tour CCH Site Builder